Hosting the 4th of July get-together this year? Or simply a guest at the get-together? If you have run out of those patriotic, eye-catching dish ideas to wow your friends and family with this year, we've got you covered.
Festive S'mores Dip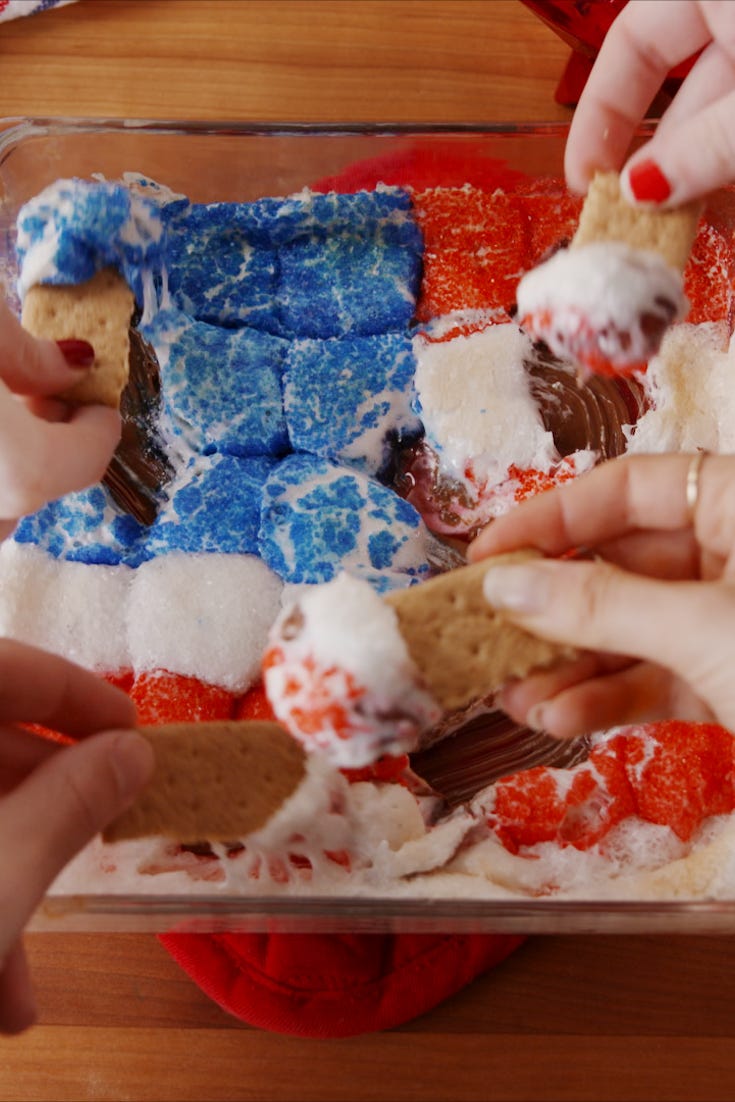 Being patriotic has never looked this delicious. This dish will forever change the way you think about s'mores.
Yields: 1 pan
Total Cooking Time: 20 minutes
INGREDIENTS:
4 sheets of Hershey's chocolate
19 regular sized marshmallows
1 c. water
1 c. red, white, and blue sanding sugar
Graham crackers
DIRECTIONS:
Preheat oven to 450°.
In a square glass pan, place a layer of Hershey's to cover the bottom of the pan.
Dip 5 marshmallows in water and roll them in blue sanding sugar. Place on parchment paper to dry.
Repeat this process to make 6 red marshmallows and 8 white marshmallows.
Using kitchen shears, cut each marshmallow in half.
Place marshmallows cut side down on the chocolate to form a flag.
Bake for 8 to 10 minutes and serve with graham crackers.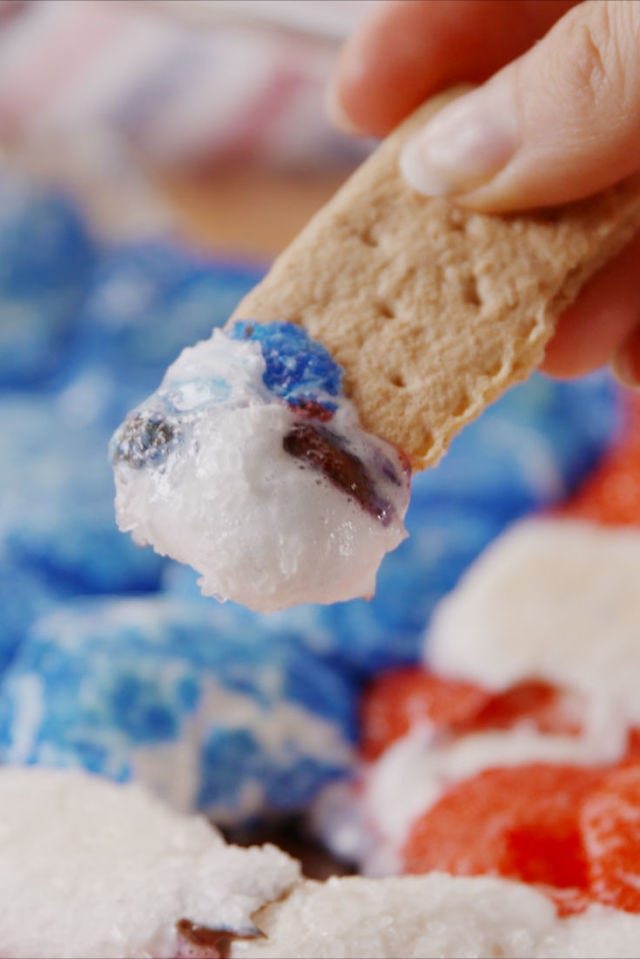 Find Out More Here
Firecracker Milkshake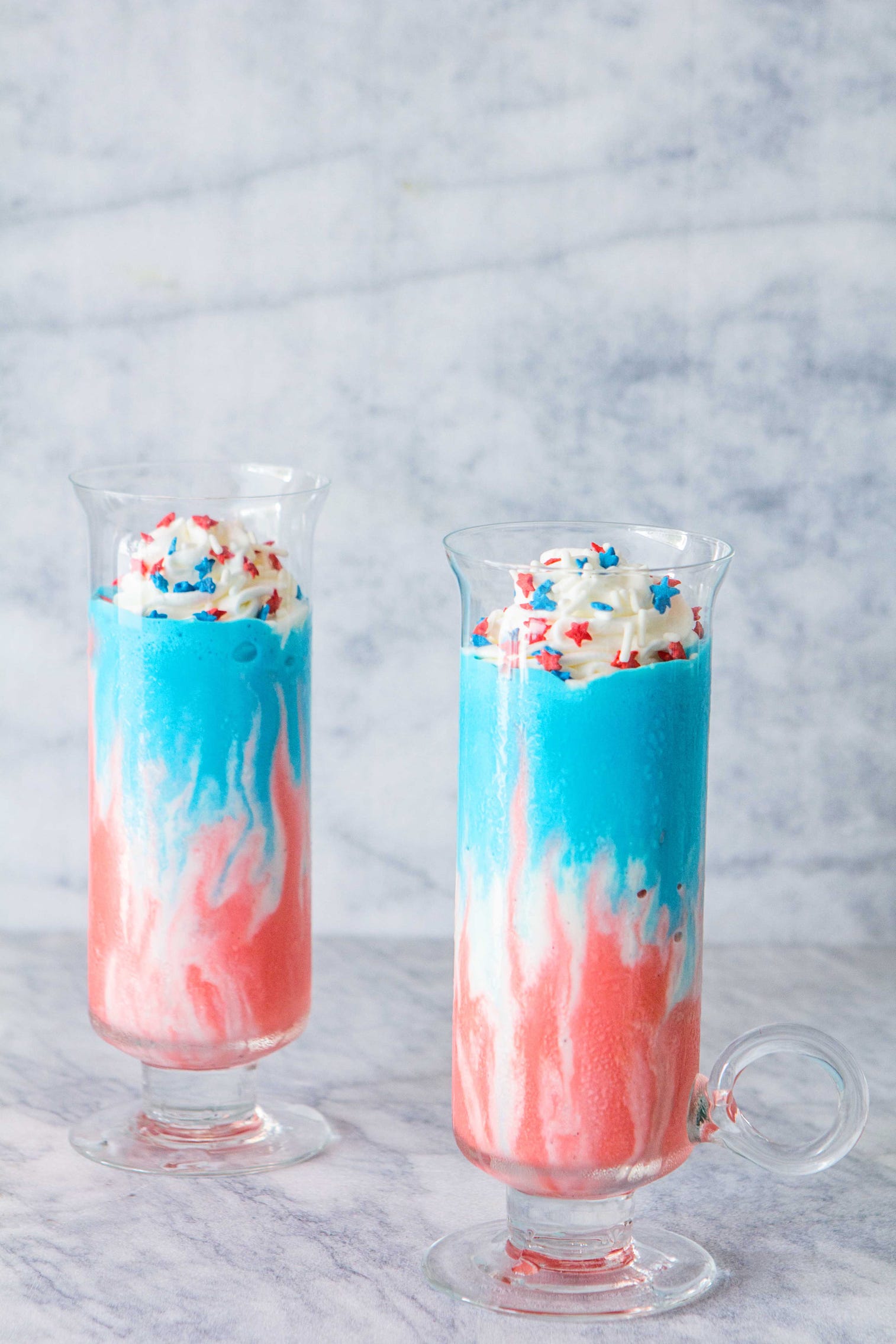 This milkshake is a firework explosion just waiting to happen. It's just as refreshing as it looks.
Yields: 4 shakes
Total Time: 10 minutes
INGREDIENTS:
1 half g. vanilla ice cream
3 drops red food coloring
3 drops blue food coloring
Whipped cream
Red, white, and blue confetti
DIRECTIONS:
Soften ice cream to a soft serve/yogurt texture. Evenly divide ice cream into three bowls.
Place red food coloring in one bowl and blue food coloring in the other, using a whisk beat each bowl until color is well blended.
Layer bottom of glass with red ice cream, then plain vanilla, then blue ice cream. Using long spoon or knife drag from the bottom to the top, stirring in between to mix the color (do not over-mix).
Finish with whipped cream and red, white, and blue confetti.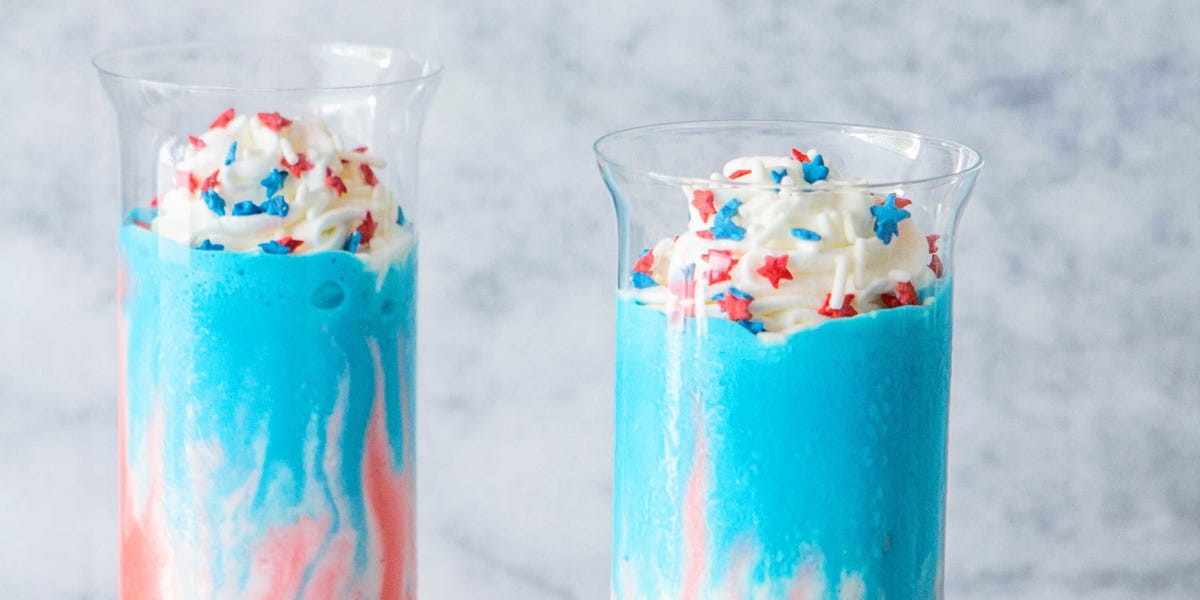 Find Out More Here
Tie-Dyed Fudge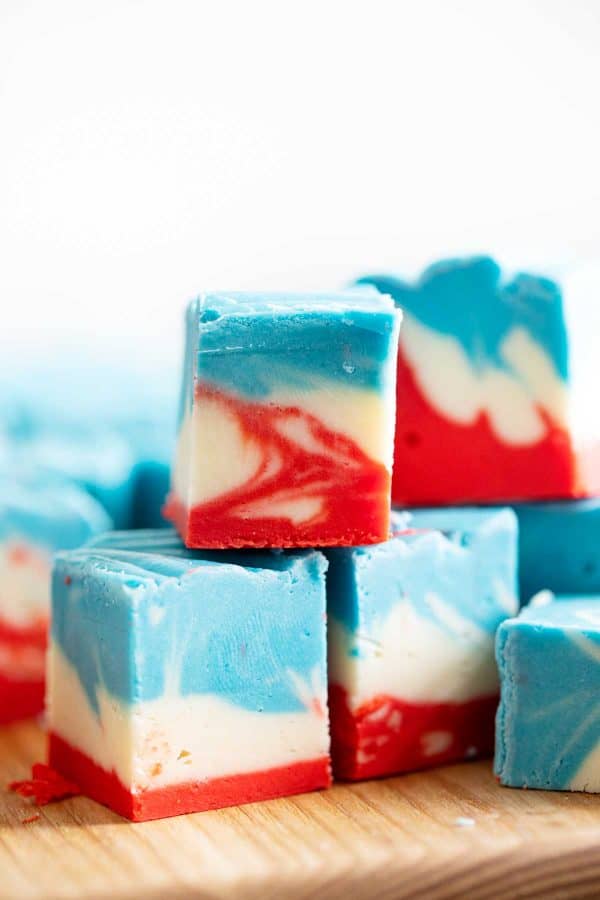 Who says tie dye is only for t-shirts?
Yields: 32 pieces
Prep Time: 15 minutes
Cook Time: 8 minutes
Total Time: 2 hours 30 minutes
INGREDIENTS:
2 1/2 cups sugar
1/2 cup unsalted butter
5 oz evaporated milk
2 cups marshmallow creme
8 oz white chocolate chips
Red and blue food coloring
DIRECTIONS:
Line a 9×5-inch loaf pan with foil. Spray with nonstick cooking spray. Set aside.
Have everything ready to go before continuing, as the fudge will set up quickly. You will need 3 bowls, 3 spatulas, the food coloring and a knife.
In a large pot or saucepan, combine the sugar, butter, and evaporated milk. Cook over medium heat, stirring frequently. When the mixture comes to a boil, stir constantly for 5 minutes. Add in the marshmallow creme and the white chocolate chips and stir until smooth.
Divide the mixture into 3 bowls. Add red food coloring to one, blue food coloring to one, and leave the third bowl white. Stir each color.
Pour the red fudge into the prepared loaf pan, smoothing the top as best as possible. Pour the white fudge on top of the red, then pour the blue on the top. (Stir each bowl before pouring, just in case the fudge started to set up.) Take a knife and drag it through all three layers, making the marbled effect.
Let the fudge cool completely before cutting, at least 2 hours.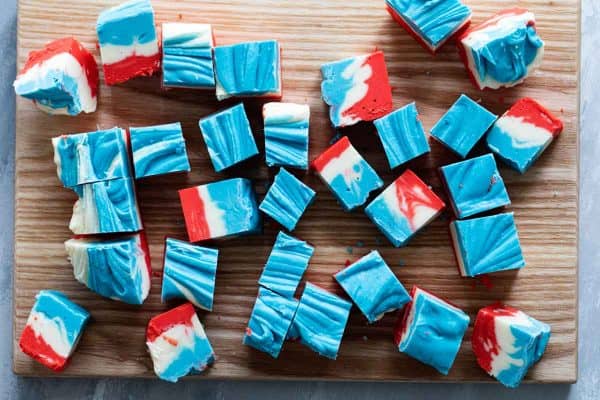 Find Out More Here